Research in Machine Learning, Neural Computation, and Statistical Inference
at the University of Colorado, Boulder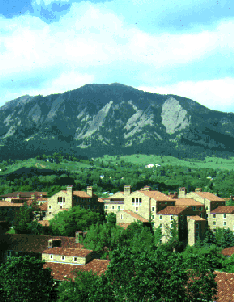 The University of Colorado at Boulder provides an outstanding interdisciplinary environment for research and graduate training in Machine Learning, Neural Computation, and Statistical Inference in the fields of Artificial Intelligence, Cognitive Science, Bioinformatics, and Engineering. Our research spans topics including:
machine learning
neural network theory
reinforcement learning
network science
Bayesian statistics
applications of machine learning, statistical and optimization methods to engineering problems
crowdsourcing
adaptive control of complex, nonlinear systems
computational models of perception, attention, and cognition
statistical approaches to natural language understanding
speech recognition
mechanisms of learning in the brain
experimental studies using child and adult behavioral measures, fMRI, and ERP
human-machine interaction
human-centered and humans-in-the-loop machine learning
While these research topics are diverse and involve different subsets of the faculty, faculty interactions lead to many synergies among the topics.

Faculty
Graduate Study
Applications for graduate study and further information about graduate programs can be obtained from the home page of the relevant department. Those with an interest in cognitive science and cognitive neuroscience should visit the Institute of Cognitive Science home page.
Support is generally available for Ph.D. students in the form of teaching and research assistantships.
In addition to providing an exciting research environment, the Boulder area offers an exceptional quality of life. Spectacularly situated at the foot of the Rockies, Boulder provides a wide variety of extraordinary outdoor activities and an average of 330 sunny days per year. Together with Denver, Boulder also affords a broad range of cultural opportunities.
Courses
See Machine Learning Courses at the University of Colorado for more information on current offerings. Here is a sample of of recent course offerings relating to neural and statistical computation. Consult department home pages for more information about course topics.
Artificial intelligence
Neural networks and deep learning
Machine learning
Bayesian statistics
Unsupervised learning and dimensionality reduction methods
Reinforcement learning
Network analysis and modeling
Statistical pattern recognition
Time series analysis and prediction
Natural language processing
Knowledge-based systems
Robot control
Speech processing
Issues and methodologies in cognitive science
Introduction to cognitive simulation
Psychology of thinking and problem solving
Judgement and decision making
The scientific investigation of consciousness
Language acquisition
Brains, minds, and computers
Neural systems
---
This page is maintained by Mike Mozer